Welcome to DrNeera.com!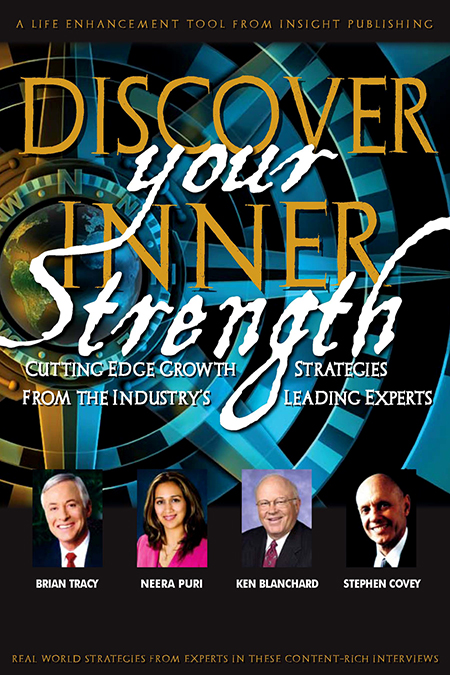 ---
Speaker & Author
Dr. Neera Puri, keynote speaker and author, has been selected from a nationwide search to be featured in Discover Your Inner Strength, a highly successful book series from Tennessee based Insight Publishing. The book features best-selling authors Stephen R. Covey (Seven Habits of Highly Effective People), Brian Tracy (Maximum Achievement) and Ken Blanchard (One Minute Manager.) Dr. Puri, Blanchard, Tracy and Covey, are joined by other well known authors and speakers, each offering time-tested strategies for success in frank and intimate interviews.
Dr. Puri is committed to working with strong, talented women and men in recognizing their strengths and becoming leaders in their communities and workplace.
---
---
International Trainer
Dr. Neera Puri is a former Senior International Trainer for MentorCoach, the leader of coach training in the world today focusing on Positive Psychology. Dr. Puri has educated and trained professionals on coaching, business development, and strategic career design.
If you'd like more information on the MentorCoach Training Program, click here.
Here's what students say about Dr. Neera Puri's classes:
"Neera Puri was my instructor for Foundations. Her willingness to give of herself--both her time and her expertise--was incredibly helpful to me and had huge personal impact. On several occasions, she offered to spend significant amounts of time helping me on business development projects I was working on outside of class. Her insights were extremely helpful. I felt very supported by her as my instructor."

-M.M., Psychologist, Private Practice, Bellingham, Washington, USA
"It is difficult to know where to begin in terms of describing how I have benefited from completing the Coaching Foundations Course at Mentor Coach. It is as different as harvesting a crop by hand or using a combine. I feel I have brought a greater set of skills to the table and my clients are the beneficiaries. I have a renewed confidence in my ability to empower my clients to reach their own goals by helping them access their own talents, skills and resources to make it happen.
The facilitators that I have been fortunate enough to work with embodied the spirit of coaching. Neera did not just teach the course but she lived the role. We felt the joy she experienced each time we shared a win in our own journey and she shared our pain as some of us were effected by loss or problems in our personal lives along the way. I have taken many professional development and continuing education courses over my career but I have never had such an effective teacher until I took the Coaching course. You simply cannot take this course without growing as a person and a professional. Thank you for this opportunity and wish you continued success."
-P.D., Career Coach, McMaster University, Hamilton, Ontario, Canada
---
Psychologist & Coach
Do you know someone who needs clarity in their career?
Do you know a parent who wants to save their child money in the time and investment for college?
Do you know a group that could benefit from career testing such as the Myers Briggs Type Inventory, Strong Interest Inventory, or FIRO-B?
They say life satisfaction is related to how you are using your strengths in your career and relationships. Don't you want to see you and your family members happy with their career choices?
My name is Dr. Neera Puri. I'm a psychologist and career coach. I have successfully guided thousands of people in their careers, and now I want to offer the same opportunities to you or someone you know who needs career guidance.
I can guide you to identify your best, most expedient career path. You won't have to deal with expensive choicies caused by confusion around your career. I have seen many people whose depression lifted when we worked together to use the latest in positive psychology, a strength focused career approach, and career testing.
My clients know me as the psychologist coach with very high career intuition. I feel it is my calling to guide others onto their career path. I believe your career can be enjoyable for you and beneficial for the world. It doesn't matter if you are serving ice cream in Alaska, your career can serve for the greater good of society. Let me help you tap into the career path that you were meant to be in!
Dr. Neera Puri's philosophy about coaching, media/press interviews, and background interests are listed here.
Dr. Neera Puri also emphasizes positive psychology and a strength based approach for working with people. In 2004, Dr. Neera Puri was 1 of 500 people trained worldwide in Martin Seligman's esteemed Positive Psychology program.
Are you really interested in Positive Psychology? Did you know you could get access to...
**a FREE special edition of Time Magazine's "Science of Happiness",
**a FREE landmark study in the American Psychologist reviewing Positive Psychology,
***and the top FREE Positive Psychology surveys to guide you on the path to happiness?
FREE!!! Positive Psychology Articles, Resources and
Surveys
"My personal favorites include "The Approaches to Happiness" survey and the "VIA Signature Strengths Survey". Both can be used to build productive teams.
Dr. Neera Puri has researched the phenomena of online help-seeking. Her results showed that even for the most stigmatizing issues such as sexual concerns, people preferred the anonymity that virtual coaching (by phone or online) provided. Now Dr. Neera Puri holds the dream that more women and men passionate about changing our nation will receive the support they are sorely lacking.
"If you resonate with my vision of getting out more men and women passionate about helping our nation change, then I am ready to mentor you and share my wisdom."